Andy will have been at it for a full decade come November 23. That means almost 290 columns and over 1.65 million words of advice to fellow Scouters. Now matter how you stack it, that is a pretty impressive record – hat's off to Andy for a job well done and for his continued dedication to Scouting.
Back in 2001 when Andy started, our site looked like this (click on image to see a larger version):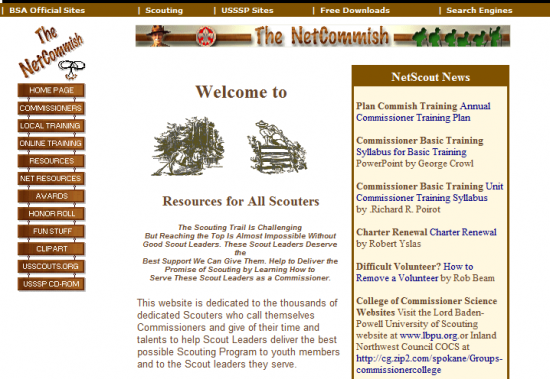 As you can see, we plan to keep changing and adapting to better serve Scouting. We hope that you'll like and enjoy the new format we are using and that you'll take advantage of the social media features to recommend and share the site with your friends. We also know from readers that sometimes it helps to have the text a little bigger. So we've added a feature at the top right of each page to allow you to adjust the font size to suit your own preferences. And if you ever need a print version, just click on the orange RSS icon and you will see a page that can be easily printed off.