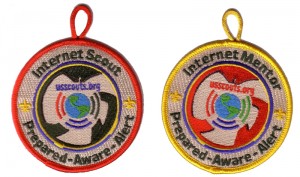 The U.S. Scouting Service Project (http://usscouts.org) has an Internet Scout Patch Program that is designed to help foster a family approach to youth use of the Internet.  The hope is that families will, by working through these requirements, develop a better understanding of the Internet, its dangers, and adopt safer practices.
We also hope that the dialog that is started in this program will continue and provide young people with a home safety net for their Internet use.
While the Internet offers many wonderful possibilities, it is also a dangerous place with predators and unrestrained content that may not always be appropriate for young people. While there is no way to prevent misuse of the Internet and no way to absolutely prevent any of the risks associated with using the Internet, it is our hope that parents and children who engage in a dialog about internet issues will reduce these risks and have a safer experience.
The patch design incorporates the words "Prepared", "Aware", and "Alert" because it is our hope that by working through the requirements with an adult mentor (parent or leader) that the Scout will be better prepared to use the Internet with an awareness of potential dangers that will keep the Scout alert to problems.  The red bordered patch is for youth participants.  The gold bordered patch is for adult mentors.
You can find out more about the program and review the requirements at http://usscouts.org/USSSPINternetScoutPatchV2.00.pdf