You are here:
Home
>
Basic Training and Training Codes

Basic Training and Training Codes
With thanks to Dave Tracewell for forwarding, here are a couple of info sheets on training:
2. Basic Training Course Requirements for Adult Leaders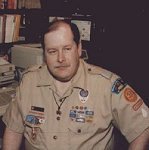 About NetCommish
Michael F. Bowman is Vice President for Services and Board Member, U.S. Scouting Service Project, Inc. He has served as the primary webmaster for the U.S. Scouting Service Project, Inc. since 1997 and has operated the NetCommish web site since 1994.
More information about The NetCommish
Follow NetCommish
Follow us via social media.
Loading
Click on one of the A buttons to make the font size on this page larger or smaller. Resize Content
Scouting Cartoons
Commish Resources
Share Your Commissioner Presentations Here:
Help the NetCommish build a resource library of commissioner materials. If you have a presentation you are willing to share,
drop me a note
. Thanks!
---
See the complete list of Commissioner Presentations
The most recent contributions are listed below - scroll down to Volunteer Submissions.
Volunteer Submissions
Most Recent Presentations
(Click Here to See All Presentations)
2013 CCS Doctoral Program Guide:
2013 Doctorial Program Guide
by Mike Menefee, Dean, Doctoral Program, Asst Council Commissioner, Heart of Virginia Council, BSA
BCS 113:
New Unit Sustainment
by Mike Lamb, Assistant Council Commissioner, Los Angeles Area Council
DCS 600:
Doctoral Thesis Seminar - Combines DCS 601, 602, 603 & 604
(
PowerPoint 2003 Version
) by Michael Menefee, Assistant Council Commissioner, Heart of Virginia Council & Dean of the Doctoral Program, HoV Commissioner College
DCS 716:
Journey to Excellence - District
by Mike Lamb, Assistant Council Commissioner, Los Angeles Area Council
Leadership Skills for Troops
Multi-lingual Training Presentation
by David Skolnick, Old Colony Council
Support This Site