Special NAYLE Edition
Rule No. 61:
When called upon to speak to any group or audience, resist the urge to describe the thoughts that ran through your head before you figured out what you were actually going to say.  The three most important elements of a good speech or talk are (1) a "wake-up" opening, (2) a thoughtful close, and (3) keeping 1 and 2 as close together as possible.
Some leaders may be born, but STRONG leaders are MADE!  So let's get going and NAIL IT at NAYLE!
NAYLE—the BSA's premiere Philmont-based youth Leadership Training—is coming your way, so alert all your troops, crews, ships, and teams, all Scouts and Venturers, and Sea Scouts, too!
NAYLE

IS

ON THE ROAD

!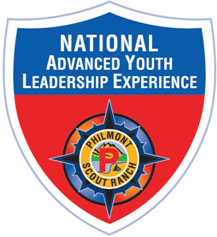 What's "NAYLE"?
It's the BSA's National Advanced Youth Leadership Experience, begun at Philmont and again this summer on the road to BSA regions around the country!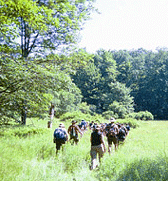 What Do You Learn at NAYLE?
Encouraging others to live lives of leadership-through-service.
Acting as a "servant-leader" and sharing your leadership skills and group dynamics understanding to help others develop as well, in an outdoor setting.
Intuitively using your leadership skills in all aspects of your life.
Becoming an advocate for advanced leadership training back home in your local council.
Using what you've learned at NAYLE to help others become more successful.

What Can I Expect?
Challenging and fun group and individual activities in an outdoor setting.
Learnings that lead to the opportunity of changing how you lead and how you live your life!
Participants were asked how much they'd recommend NAYLE to others like them and, on a 1 (low) to 5 (high) scale, they said: 4.9!
Here are some actual quotes:
"All I can say is WOW! It was such an amazing experience with so much in one week. I'd highly recommend this course to anyone who'd like more leadership skills."
"I had the best time of my life! The…experience made it all come together and made it a once-in-a-lifetime event. This was so much fun actually using the skills and then being able to connect them back to what's taught (back home). It will definitely help me make the best of my home course."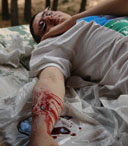 The Modules
The six exciting NAYLE modules are designed for you to use your group leadership skills in realistic and challenging settings:
Challenging Events
Wilderness First Aid
GPS and Geocaching
Search and Rescue
Leave No Trace
Conservation
The Modules Focus On These Skills:
Module

Purpose

Leadership Skills

Challenging Events
"Forming" stage of team development
Valuing people, observing leadership behaviors
Wilderness First Aid
Advanced skills for later application in S&R
Planning, communication,
problem-solving
Geocaching
Outdoor skills, "Storming" stage of team devel.
Teaching EDGE™, conflict resolution, problem-solving
Search & Rescue
Advanced outdoor skills for application throughout course
Teaching EDGE™, problem solving, communication
Leave No Trace
Advanced outdoor skills for application throughout course
Ethics in decision-making
Conservation
Give back through service
Teaching EDGE™, servant leadership
What Will You Take Home…?
   We See These Outcomes:
Growing self-awareness  –  A daily assessment of strengths and limitations
The happiness that comes from helping others succeed
Growing creativity
Understanding that everyone is a leader  –  All group members make significant contributions to their team's success
Knowing leadership is a way of life
Growing self-confidence
Are YOU Ready?
To attend NAYLE, you will…
Be 14 years of age by the first day of your course, but not yet 21, from Boy Scout, Varsity, Venturing and Sea Scout units.
Have successfully completed National Youth Leader Training or The NYLT to NAYLE Bridge.
Be in top physical condition: Meet the parts A, B, C and D requirements of the BSA Annual Medical form.
 Some Leaders may be born; STRONG LEADERS are MADE!
 NAIL IT at NAYLE!
---
NAYLE Course Fee        
$355.00 per participant, includes all meals, lodging, training materials, NAYLE cap, and 2 NAYLE tee-shirts.
Payment in full due with registration.
To Register…
PHILMONT

Dates:

June 17-23, 2012
June 24-30, 2012
July 7-13, 2012
July 22-28, 2012
July 29-August 4, 2012
August 5-11, 2012

Camp:    Philmont Scout Ranch, Cimarron, NM
Register: TrainingCenter@PhilmontScoutRanch.org
Dates:    July 29-August 3, 2012
Camp:    S-F Scout Ranch, Knob Lick, MO, St. Louis Area Council (www.stlbsa.org)
Register: www.stlbsa.org  Then click NAYLE link
Contact: Becky Fisk, Course Director, beckyfisk@hotmail.com
NORTHEAST REGION

Dates:    August 5-10, 2012
Camp:    Onteora Scout Reservation, Livingston Manor, NY,   Theodore Roosevelt Council (www.trcbsa.org)
Register: www.trcbsa.org/Onteora/NE-NAYLE.htm
Contact: John Glockner, Course Director,  QPI@mail.com or [908] 928-1115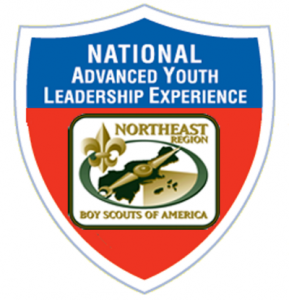 2012 Northeast Region NAYLE Course
WESTERN REGION

Dates:       July 10-14, 2012
Camp:      Tamarancho, Fairfax, Marin County, CA,   Marin Council (www.boyscouts-marin.org)
Register:   www.boyscouts-marin.org  Then click NAYLE link
Contact:    Mary Stevens, Course Director  leadershipBSA@gmail.com
OR, GO HERE FOR MORE DETAILS: http://www.scouting.org
Happy Scouting!