________________________________________
In this column…
• "Co-" Senior Patrol Leaders? Really???
• Under-age drinking. What would YOU do?
• Eagle project gone sideways?
• How to be smart about Eagle references.
=============================
Dear Andy,
I'm a Troop Guide and I'm getting ready for our troop's elections. Last time I ran for Senior Patrol Leader, two other Scouts ran together as co-SPLs. They won. Now again there are two Scouts running together and I'm the only other Scout hoping to be elected to SPL. Is this okay, to run as "co-" SPLs? What do I do? (Scout's Name & Council Withheld)
"A Scout is brave" and that's YOU when you decided to reach out and write to me. Thanks!
Two rules apply here…
Rule No. 63: "Co-leaders" who agree to share 100% of the responsibilities will each accomplish 10%.
Rule No. 18: Beware any Scouter who'd rather be wrong than take the time to look it up.
I'm guessing nobody—not even your Scoutmaster—has checked and realizes there's no such thing in Boy Scouts that's "co-" anything! I hope you'll show our conversation here to your Scoutmaster, because we're not supposed to diddle around with what the BSA established 107 years ago.
Ultimately, one person needs to be responsible. That's why there's no such animal as "co-Scoutmaster," for instance. In aviation, there used to be a position called "Copilot" but there was only one of these, because there was also a Pilot, and the Pilot's always in charge. (In the past, "copilot" meant "assistant pilot." Today, the names are Pilot and First Officer, to emphasize this distinction.) Same thing with ships: There's only one Captain. In football, there's only one quarterback on the field. In basketball, there's only one center. In U.S. government, we vote for only one President (and usually a Vice President too); that's why there's no such title as "co-President"! And this list goes on and on…
Yes, there can be one or more Assistant Senior Patrol Leaders, but ASPLs are hand-picked by the SPL; they're not the Scout who got the second-highest number of votes. (In early America, the president the one who got the most votes and the vice president was runner-up. But we figured out that this didn't work, and changed our national presidential election process to eliminate this—and that was back in the 18th Century!)
This is something for your Scoutmaster to fix, and right away!
==========
Hi Andy,
A Scout in our troop, Life rank and working toward Eagle, was detained by police at our high school's home basketball game for under-age drinking. The incident was very public, and has become a running "chatter-point" among both high-schoolers and their parents, a number of whom are troop members and adult volunteers. I did check with the Police Department: What happened is fact; it's not a fabrication.
Is there ever a situation where a Scout's behavior permanently puts his Eagle rank out of reach? Is this one of those? I'm asking because, as Scoutmaster looking at a conference with this Scout sometime in the next six months, I'm just not prepared to sign him off on "Scout spirit" in light of an incident of this significance and recency.
I would, however, like to give him an opportunity to redeem himself by demonstrating that he lives by the principles of the Scout Oath and Law in his daily life. I'm planning to ask this Scout to propose how he'd make amends, but it's not at all clear to me what that would look like either to convince me he's straightened out or to send a clear signal to other Scouts—particularly those in his own age group—that underage drinking is a problem. Whatever thoughts you may have on this would be appreciated. (Name & Council Withheld)
Life itself is sometimes like learning to ice skate…you'll eventually figure it out, but along the way you're gonna fall down a lot!
So let's start by getting something critically important out in the open: Scouting doesn't and never has endorsed "punishment" for Scouts screwing up. Yes, there are always consequences to all actions, but there's never anything of a punitive nature. With that Scouting principle established, let's take a look at our young imbiber…
First, we need to recognize that this didn't happen at a troop, patrol, or other Scouting event. This means the troop has no jurisdiction. Second, the officers who handled the matter detained him ("detain" has a very specific definition in law enforcement); they didn't arrest him. Third, in all probability this young man's parents have followed up with their son in their own manner. Fourth, we need to keep in mind the exact language of the Scout Oath, particularly the first sentence, starting at "…I promise to do my best…"
The "do my best" part is critical. It doesn't mean "I always will…" It means "I'm gonna try to…" This recognizes all of us as imperfect, fallible, and sometimes capable of really messing up. In other words, we're human.
So, did he "do his best" at that particular time when he engaged in consuming an alcoholic beverage of some kind? That question gets both a "no" and a "yes"—"no" because he's proven in other surroundings that he's capable of more thought-through behavior, but also "yes" because, in this particular moment, his "best" was a pretty low bar (no pun intended).
Does he "fail" in Scout spirit? I truly don't think so, because we need to look at the totality of his daily life and not a single incident only. Should he be "punished" by his troop because, in this particular instance, he "failed" to live to perfection several specific points of the Scout Oath and Law? For this we return to the beginning: Scouting isn't in the business of punishment.
Let's consider that the public embarrassment he's already endured, coupled with whatever his parents likely chose to impose on him, have been more than sufficient in this arena, so that the troop needn't engage in further "discipline" (which would be outside the troop's province anyway).
Let's also remember that a Scout's patrol and troop are intended to be his "second home"…a place that's safe and accepting, and where he can enjoy personal growth and sense of responsibility. They're not Scouting's answer to Boot Camp.
So, where to go from here? Consider that this young man has just learned a very important life lesson—one that others can learn from. Here's an approach I'd personally recommend…
Sit down with him (privately but in view of others—effectively, this is his Scoutmaster conference) and ask him—as would a kindly uncle—to take you through not only what happened but—more important—how he was feeling as events unfolded and how he feels now. Assuming he's feeling embarrassment and remorse, ask him if he'd be willing to share his experience with others like himself (that is, older Scouts of similar age and possible temptation) so that he can tell them what it's like to "get caught" and how he's not ever going to be this dumb again. If he agrees, pull an impromptu meeting together right then and there, and you take a seat in the corner of the separate room for the meeting, where he shares his experience with his fellows.
Help him feel that he has valuable information and insights to caution his friends about—because he does! Then let it go. Done is done, and it's time to move on.
==========
Dear Andy,
This is an "after" photo of a Scout's Eagle service project. He followed the town's instructions on installing the fence, but somehow this just doesn't seem right. Can he still qualify as having completed his project "successfully"? Thanks! (Puzzled Scoutmaster)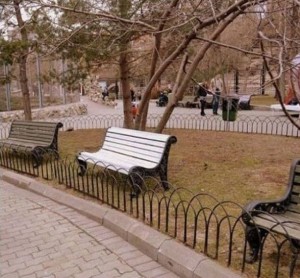 Well, if the beneficiary signed off on it, I guess just go with the flow…
==========
Hi Andy,
As a Scoutmaster, I've always contacted an Eagle candidates references and got the letters; Scouts never had to do this. But one point I think worth mentioning is that the Scout should definitely ask the person is he or she is willing to be a reference before he puts their name on the application. I remember contacting a reference once who declined to write a letter because the Scout hadn't asked him…kinda prickly but it happened. I also once had a reference write a letter NOT recommending the Scout for Eagle because, in her eyes, he didn't push himself academically or take the full plate of "AP" courses available to him. Oddly enough, he got decent grades, played varsity football, was on the swim team, and played in the band. Yes, I gave that letter to the reviewers, and their response was laughter, with remarks like "When did we have a GPA requirement?" "Holy cow, you have to take AP courses to make Eagle? There goes my own badge!" During the review, they talked with the Scout about academics and, in his senior year of high school, he did take several AP courses…and flourished…and still found time to be a great Senior Patrol Leader! (Jeff Stone, SM, Wiesbaden Army Airfield, Germany)
Yup, it's the wise Scout who asks his references beforehand if they'd be willing to provide a recommendation. (Heck, this is a "life lesson" that he'd better learn for later on when he's career-hunting!)
And, yes, when people don't understand what their role is—which sometimes happens—a less-than-positive letter can come in… One of the reasons nobody but the reviewers ever sees these! You did the right thing by passing that letter forward, and I appreciate how the reviewers responded

Happy Scouting! and Happy Thanksgiving!

Andy
Have a question? Facing a dilemma? Wondering where to find a BSA policy or guideline? Just to me at: askandybsa@yahoo.com. Please include your name and council. (If you'd prefer to be anonymous, if published, let me know and that's what we'll do.)
[No. 551– 11/21/2017 – Copyright © Andy McCommish 2017]