Here are two "must read" letters. I will personally guarantee that they are authentic. Make no mistake: We talk about our youth being "the future of America"—Today, we're talking about the future of THE WORLD. (Related Videos: Iraqi Scout Day Camp | Start of Iraqi Scout Camp — right click and download to view) Read on…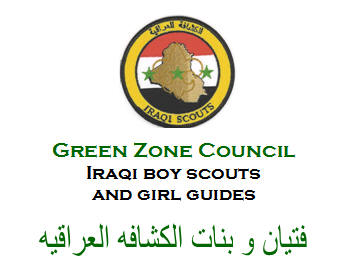 Dear Andy,
I'm writing to ask for your support for the Iraqi Scouting program. While deployed in Iraq, I found a group of soldiers and civilians in Baghdad who are rebuilding the Iraqi Scouting program. The program needs various supplies for campouts and activities and would be grateful for any direct donations toward their "wish list."
You can also help by purchasing a Green Zone Council CSP or Pocket Patch for $1000 apiece.
I assure you I'm not doing this for any personal gain. Using my own combat pay (Yes, I personally served a tour in Iraq), I had a patch manufacturer make up 1,150 CSPs and pocket patches, and I'm sending all proceeds to the BSA International Division, with the notation that these funds go to the Iraqi Scouting Program. I have two goals: To raise awareness of this endeavor and need, and to raise $11,50000 for the Iraqi Scouting Program. If you can help, I'd be sincerely grateful
Here's a letter from 1st Lt Mike Gerson, who's in Iraq right now and, in his "free time" is directly involved in the Green Zone. If you're interested in either, please feel free to contact me. If you can send supplies, please feel free to contact the GCZ directly.
Thank you.
Yours in Scouting,
John Green
Captain, U.S. ARMY
(Eagle Scout Class of '91, Troop 391, New Windsor, MD)
John.Green3@us.army.mil or HawkUH60@aol.com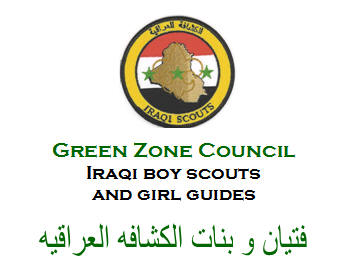 Dear Fellow Scouter,
Thank you for your interest in supporting the Green Zone Council! Thanks to people like you, we're able to advance our Iraqi Scouting mission. The Scouts of Iraq, both children and adults, continually express their gratitude for the support people in America and around the world have provided them.
The Green Zone Council (GZC) was founded in 2004 to assist in local efforts to return Iraqi Scouting to its former position of leadership within the Middle East. In this time, we've seen more than three dozen members volunteer for varying lengths of time. During their tenure, all have uniformly worked to advance both the short-term objectives and long-term strategic goals of Iraqi Scouting.
The Iraqi Scouting Council works under the auspices of the Ministry of Education (MoE) and counts more than 150,000 youth members and several thousand adult leaders in all of Iraq's 18 provinces. The GZC has been with the MoE every step of the way, helping to raise funds for training and equipment, hosting meetings of senior Iraqi Scouters, and coordinating with the World Scouting Foundation to insure that funds are available to advance organizational goals and missions.
Coalition members of the GZC have periodic events with the local Scouts to help build relationships and generate support for Iraqi Scouting. One of our biggest challenges is extending the program beyond our small secure borders in the International Zone, but hopefully soon with a change in the security situation we'll be able to extend supplies and events to Scouts in the remaining Baghdad area and throughout Iraq. We already have basic camping supplies—tents sleeping bags, mess kits, lanterns, and coolers—all graciously donated by the Spirit of America, with assistance from the Coleman Company.
Supplies we still need include:
Ropes for knot tying (multiple colors and lengths)
First Aid kits, Burn Kits, or supplies to build our own kits
Boy Scout and Girl Scout craft kits
Safety & Survival gear (Compasses, GPSs, etc)
Non-perishable camping food
Ponchos and other outdoor Scout gear
Flashlights (and batteries!).
One of the larger projects for the funds we've collected will be to rebuild and improve the Scout camps throughout Iraq. Included in these improvements will be establishing workshops to enable the Scouts to learn a trade and practice skills. These donations would be more involved but if you have the assets available we'd gratefully receive any of the following:
Blacksmithing tools
Carpentry tools
Electrical work tools
Musical instruments of any kind
Sewing machines, thread, and fabrics
Computers.
Thank you in advance for your support! If you choose to contribute, please give me a point of contact (name and contact information) so we can send you photos of the Scouts! enjoying your donations. I can be reached any. All donations can be sent to:
Yours in Scouting,
Michael Gerson
First Lieutenant, U.S. Army
MNF-I CSO Plans, APO AE 09316.
Michael.Gerson@Iraq.Centcom.Mil
Happy Scouting!!
Andy
Have a question? Idea? Suggestion? Thought? Something that works? Just write to me at AskAndyBSA@yahoo.com. (Please include your COUNCIL or your TOWN & STATE)
(February 10, 2008 – Copyright © Andy McCommish 2008)