First, we must note the passing of a national icon… and a fine Scout and Scouter: Arthur Robert Hamilton.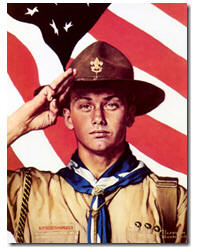 Arthur Robert "Bob" Hamilton is best known as the steely-eyed saluting Scout in Norman Rockwell's 1944 painting, "We, Too, Have a Job to Do." This painting helped rally Scouts and their families nationwide to collect tin cans and rubber anything, volunteer in their communities, and plant "victory gardens" during World War II.
But Hamilton, who died last month at age 82, was more than a young man in the right place at the right time, when Rockwell first dipped brush in paint. Bob Hamilton was himself a life-long Scout. "He was very much defined by being a Boy Scout," said his daughter, Alison King. "I think he influenced us to be all individuals, do the right thing, go above and beyond, make the right choices and life will pay you back."
Born in 1926 and an Eagle Scout by the age of 15, Bob Hamilton was 18 when the painting was created. He served in the U.S. Navy, later graduated from the University of Maryland, and became an employee of the BSA, as a fund-raiser, retiring in 1989.
In the early 1950s, when I was just a Cub Scout, my dad came across a reproduction of that painting in a magazine, cut it out, put it in a rude wooden frame and gave it to me to hang in my room. It hung there for the next 14 years and, when I moved out, it came with me. I was fortunate enough to spend several summers at Schiff Scout Reservation, where I got to see the original, hanging in an apse of the great hall. I almost lost it at several shaky periods of my life, but I still have it today—it presides over a makeshift "memorabilia room" in my home. Some day, my grandson will have it. Even though it's nothing more than an inexpensive copy from a magazine, it's nevertheless helped me keep aimed at True North at those times in my life when things sort of started to wander. All I had to do was look at it one more time, to try to see what the Scout in the painting saw. Thank you, Norman Rockwell, for painting that image, and thank you, Arthur Robert Hamilton, for being the Scout I've never stopped trying to be.
---
Dear Andy,
Where can I find a statement on troop neckerchiefs? Do the adults have to wear them if the Scouts adopt a certain one. I thought they told me at Wood Badge that it's optional for adults, but now I have two leaders who are taking Wood Badge and they're saying that everyone has to wear the troop neckerchief, if there is one. Please advise if this is true or not, and where BSA states this. (Harold David, Crossroads of America Council, IN)
The first place to find a statement on neckerchiefs is in the Boy Scout Handbook, pages 12-13: "A neckerchief and cap or campaign hat are optional."
The second place is the BSA Insignia Guide, page 5: "Boy Scout neckerchiefs are optional…Troops choose their own official neckerchief…The troop decides by vote, and all members abide by the decision."
Finally, the Scoutmaster Handbook, page 9: "Scoutmasters in full uniform set a good example for members of their troops…"
So there you have it, straight from the horse's mouth: Your troop can choose its own neckerchief and then everybody wears it; or if not, then nobody wears one. But I sure hope you all wear neckerchiefs! They're the one irreducible thing that says Scouts world-wide is the neckerchief!
---
Dear Andy,
Is there a special award or recognition for Scouts who have been to all three high adventures—Northern Tier, Sea Base, and Philmont? (Kathleen Narayanan)
Yup! It's a special patch that shows a parent's hip pocket with an empty wallet in it. In all seriousness, there actually is a patch that fits what you asked about. It's called the "Triple Crown" and you'll find it here: www.ntier.org/Awards.html
NetCommish Comment: Even better news – there are two Triple Crown patches. The second is for Order of the Arrow members who attend the OA Wildnerness Voyage at Northern Tier, the OA Trail Crew at Philmont, and the OA Ocean Adventure at the Florida Sea Base. The order form for the OA Triple Crown Patch is at: www.oa-bsa.org/resources/forms/TripleCrownForm.pdf. The order form for Scouts who have been to all three high adventures is at www.ntier.org/Adobe%20Documents/TripleCrownAwardFAQ.pdf.
---
Dear Andy,
When should the "cloth" badge (for a rank or merit badge) be presented and when should the card be presented to a Boy Scout? Don Helton, COR, Lincoln Heritage Council, KY)
All ranks and merit badges should be presented to the Scout as quickly as the troop can turn around the paperwork! At the very next troop meeting would be absolutely appropriate, and that would include both the badge and the card!
Courts of honor are periodic gatherings to publicly recognize Scouts for their accomplishments since the last court of honor. It's not intended that ranks and merit badges be "held back" until there's a court of honor.
Third thing: The date of the successful board of review is the date of the rank advancement — that's the date that should be transmitted on the advancement report and written on the rank card. The date of merit badge completion is the final date written and signed by the Merit Badge Counselor—It's not the date that the Scoutmaster re-signs it to show that it's been duly recorded by the troop.
---
Dear Andy,
Whatever happened to the Boy Scout Skill Awards (belt loops) program we had in the 1970s? I see that Cub Scouts are using them now, but I'm disappointed that the Boy Scouts abandoned this program—I thought it was a great way to teach new Scouts their basic skills, and it kept the older Scouts involved as the mentors. (Bob Geiser, ASM, Golden Empire Council, CA)
For Boy Scouting's first 62 years there were no Skill Awards. Their history began in 1972, and lasted until 1989. They've now been gone for 19 years. They were not so much "new" skills or "extended" skills as they were a method of "instant recognition," much along the lines of the "progress to rank" beads used in Cub Scouting. The skills remain in place: They're still the requirements for the foundational three ranks of Boy Scouting. And older Scouts are still involved as mentors: They're Patrol Leaders, Troop Guides, and Instructors.
---
Dear Andy,
Our troop has about 40 members, nine of whom are in one patrol. The Scoutmaster and I are looking into changing the troop's meeting night, so that he and I can spend more time with the "newbies." The other night, this patrol helped out at a Cub Scout rally, and did a wonderful job. Any suggestions you might have would be welcome. (Keith Bass, District Program Chair, Evangeline Area Council, LA)

That's a nice-sized troop! A new Scout patrol needs a Troop Guide, who functions in the same way a Scoutmaster counsels the Senior Patrol Leader, and, if available, an Assistant Scoutmaster to back-stop the Troop Guide. What a new Scout patrol doesn't need is an "older" Scout who's "imported" into the patrol to be the first Patrol Leader. The elected Patrol Leader of this patrol also doesn't need an adult "helicopter" hovering to make sure nothing ever goes wrong or pulling patrol members back in line when they get acting like normal 11-year-olds (in other words, this isn't "Webelos III"). (Now please trust that I don't think nor am I implying that you do either of these—I'm commenting for "insurance"!)
---
Hello Andy,
How many square knots can an adult leader wear? (I'd thought that it was a maximum of 12 and recently I saw a couple of leaders wearing 15 and another with 18.) (Keith Westergaard, ADC, Bay-Lakes Council, WI)
And the answer is… However many a Scouter has earned or been awarded. Why did you "think" there was a maximum? Why would there be a maximum?
That was the information that was given out at one of our district's Commissioners meeting. I didn't think too much of it till I saw a couple of photos of Commissioners having more than 12 knots. I personally believe that if you earn it you should wear it. Thanks for confirming what I've never found in writing.
I have earned or receive twelve square knots, but I've been actually thinking of removing them because of some of the flack I'm getting from our elder volunteers. (I was once referred to as "The District's Knot Nazi") and was personally embarrassed at the thought that someone might think I'm only in Scouting for the awards, and not for promoting a quality program for our Scouts.
I realize how wrong that would be, because everything on my uniform represents hard work well-spent. Thanks for helping me realign my sights in Scouting and the unit leaders I serve. (Keith Westergaard)
For one Scouter to call another a "Knot Nazi" is absolutely reprehensible, on multiple levels. PLEASE go right now and read my column titled, "Fruit Salad, Christmas Trees, & Generals" (it's in-between February 2006 and Mid-January 2006).
These insensitive boors don't get it that when somebody's truly, as you put it, "promoting a quality program for our Scouts," recognitions happen. The fact that they themselves are either ineffective, lazy, or undeserving does not give them the right to try to demean you or anyone else who's a dedicated achiever.
Yes, these are merely bits of cloth with some thread woven through them, but they say, "I'VE DONE IT."
I'd actually be tempted to take on somebody who made that comment with this: "Y'know, I had an uncle who was in a Nazi concentration camp, and I'm glad he's not here to hear you talk that way." I guarantee that that idiot will never make a crack like that again! To anyone!
---
Dear Andy,
What's the proper Boy Scout troop meeting flag ceremony procedure… How many are in the color guard… What are the proper callouts… Who salutes and when… When do you say the pledge… How do you post the colors and retire the color guard… How do retire the colors at the end of the meeting and what are the callouts for that? What we would like to do is have a start-to-finish guide for all our future Senior Patrol Leaders to use. (Rich Loudon)
For this subject, I've found that the best online resource is The Girl Scouts! Check out www.mittenbay.org/Interactive/Flag.htm, gsleaders.org/files/Flags.htm, and www.girlscouts.org/program/gs_central/ceremonies/flag.asp— If these don't give you what you need, just Google "flag ceremony" and follow the citations.
---
Hi Andy,
I'm transitioning my first group of Webelos II Scouts to Boy Scouts in just a few months and we're very blessed to have four to five troops in the area. I plan on visiting the troops individually with my son (a current WII) and as a group with our den over next few months. I've asked locally what sort of questions should the boys ask and what should they look for in selecting a troop? So far, I just get the repeated phrase, "Find one that fits…" While I agree with that, I'd like to get a second opinion. What are your thoughts on some basic questions the boys can ask that can provide some direction in making that decision? (Kevin McKay, ACM, Cradle of Liberty Council, PA)
I wrote about this a while back, and I'm happy to repeat some of the ideas here for you:
By observation…
Who's running the troop meeting? (Senior Patrol Leader and other Scouts)
How are they uniformed? (Rag-tag, waist up, random are all not good signs)
Does the Scoutmaster run the meeting? (If yes, run like blazes!)
Do the Scouts look happy and "with it" or like automatons goin' through the motions or totally rowdy?
Then, a few questions to ask the Scoutmaster and Committee Chair…
How often do you go camping/hiking? (Look for "once a month, at least")
Are your Patrol Leaders and Senior Patrol Leader elected or appointed? (Elected)
Does the troop have "standing patrols," or do you make up patrols for different events? (Standing)
How many courts of honor do you have in a year? (3 or 4, but no less than 2)
How often do you have boards of review? (As often as our Scouts need 'em, or at least once a month)
At what average age do your Scouts who make Eagle get there? (Ideally, 14 to 16. If you hear late 17 to 18, steer clear!)
Does the troop participate in district events, like camporees, and so on? (Yes)
The "best fit" approach is actually a very good one… Be sure to tap into your Webelos' feelings on this! If you want an example of how important "vibes" are, just remember the last time you interviewed for a job, or interviewed somebody for a job: You really knew, if you listened to your "inner voice," if it was going to be a good fit or not inside the first ten seconds; then you spent the remainder of the interview either confirming or trying to override what you first felt.
Trust the boys to know! And, if it doesn't work out after all, switch troops! You don't "marry" a troop—they're there for YOU!
---
Hi Andy,
Let me start by saying it's a breath of fresh air reading your no-nonsense approach. If we could all simply think about what's best for the boys, we'd probably find the answers ourselves!
I've been in Scouting for 28 years, as a Scout (Eagle), MB Counselor, and Assistant Scoutmaster. I'm now involved with a relatively new troop, and the troop's committee has adopted a "policy" that was written by the Scoutmaster they recruited to start it up (the members of this committee left a well-functioning troop because they "didn't like the way things were being run" there). I think they have their hearts in the right place, but they're being exceedingly strict that this new troop policy can't be deviated from. Having been in Scouts for a while, and with good troops, I now what works and what BSA policy typically is, and they have stuff that goes directly against what I've known to be true. For example, they give a Scout three months to complete a merit badge and if he doesn't he has to start it all over again. Now the committee says they're willing to change, but only if I can show them BSA policy in writing. Where can I get access to BSA policy… a book, cd, pdf, website, anything that I can reference? (Rick)
I'm sure this committee is well-meaning and trying to do their best, but do they realize that, when they insist on being "shown it writing," they're actually admitting that they made up their own rules without doing any homework at all? They need to start by reading the Boy Scout Handbook, for themselves, especially the sections and pages that tell the Scout that any Scout can earn any merit badge any time he wants and that, to begin earning any merit badge, all he has to do is tell his Scoutmaster of his interest—His Scoutmaster will not only give him a signed merit badge application ("blue card") but will also give him the name and contact information for a Merit Badge Counselor.
Then, these committee members need to go to the BSA website and read all about Merit Badge Counselors and earning merit badges, so that they discover for themselves that the BSA places no time restrictions whatsoever on the earning of any merit badge, except the 18th birthday.
Next, they need to read the BSA book, Advancement Committee Policies and Procedures, where they'll learn that the only person who has "jurisdiction" (not the word in the handbook, but you get the point!) over merit badges and their completion is the Merit Badge Counselor and that no one is permitted to alter any requirement for any rank or merit badge (including placing an artificial "deadline" on earning of same).
I'm purposefully not going to give these good people the page numbers, because they're way behind in their reading and research, and they need to put the sweat equity into finding these things for themselves — which, frankly, they should have taken the time to check out in the first place.
I'm hoping they do get some other things right, such as…
– Every board of review for Tenderfoot through Life is made up of only registered members of the troop committee who are not related to the Scout being reviewed, and neither the Scoutmaster nor any ASMs are members of the board of review.
– No "re-testing" of any kind, on any requirement, is ever done in a Scoutmaster's conference or board of review.
– Boards of review are either regularly scheduled or happen rapidly on an as-needed basis.
Finally, suggest to these folks that they read my column titled, "Are We Really That Smart."
I do hope they're willing to straighten themselves out and start getting it right!
---
Dear Andy,
On the Webelos Sportsman activity badge, req. 3 says to earn the belt loop for two individual sports—but why are Archery and BB Gun Shooting belt loops not included?
At first I thought it was because you could earn them solo and that would side-step the "sportsmanship" aspect of Sportsman activity badge, but looking at Bicycling: there's no real "sport" in it at all, but it's included!
So, do I allow Archery and BB Gun because I have no good reason not to, other than they're not listed (but there's no reason given as to why they are excluded)? (Steve Swaine, CM, Central Georgia Council)
The Sportsman Webelos AB, req. 3, provides 14 different Cub Scout sports belt loop opportunities. As Cubmaster, your job is to make sure your Webelos Den Leaders stick precisely to the requirements, as written" That's a BSA policy.
Now if you want my personal guess as to why the archery and BB gun shooting belt loops aren't included in the extensive list, I would guess that, because there's a BSA policy that says these can only be done at a council facility, with council supervision, this could prove restrictive to some, while all the others (the 14 that are listed as qualifying) can be done without those safety restrictions in place, at any regular den meetings.
Stick to the requirements as written and you'll always be right!
---
Hi Andy,
My husband and I have heard there's a website where we can purchase an American flag for our son that's been over the U.S. Capitol Building or White House. How do we do this? (Diana Keech, Soon-to-be Eagle Mom)
This type of flown flag is usually obtained through your U.S. Members of Congress: your Senator or Representative. Check with one or the other of their offices for precise details. The request is not dependent on whether one is an Eagle Scout or not. Flags flown over the state capitol are usually available, also. Best wishes and congratulations to your son!
NetCommish Note: http://www.capitolflags.gov/, http://www.capitolflags.gov/ordering/index.cfm and http://www.usflag.org/capitol.flag.html provide some additional information. Prices vary at different Senator's and Representative's websites.
---
Dear Andy,
My son's a Life Scout and has just finished up the last requirements for Eagle. But at the last troop meeting, his Scoutmaster told him that he "wasn't active enough" to be signed off as ready for an Eagle board of review. My son was shocked. Since becoming a Life Scout, he has been to 90% of the troop's monthly meetings, helped four other Life Scouts complete their Eagle projects (in addition to the time he devoted to his own), has gone on both a one-week Scout camp and another overnight camping outing, and participated in a Scout outing to serve one Sunday at the church that allows them to hold meetings at their facility.
The Scoutmaster did allow that my son had over 75% attendance at the troop meetings, but he hadn't participated in at least 50% of the troop outings in the past six months. My son explained that he'd been helping others on their Eagle projects and serving at the church, but his Scoutmaster told him that these weren't camping trips so they didn't "count" toward the 50% of outings. When my son then explained that it would be very difficult for him to make 50% of future outings because of both schoolwork and high school sports (he's on Varsity Wrestling), his Scoutmaster replied, "That's a life-style choice," and dismissed him.
As a parent, can I don anything about this? My son really feels really down, and I'm concerned that he might just walk away from the whole thing. Is this Scoutmaster operating within BSA policy, or is he making stuff up? (Name Withheld in Pikes Peak Council, CO)
Your son's Scoutmaster has made up a rubric of his own that is not tolerated by the BSA. Further, if he has refused your son a Scoutmaster's Conference, he has effectively blocked your son from further advancement (i.e., advancement to Eagle rank). Your son does have recourse, but he (with you as support) needs to do a bit of "homework" first…
Your son can make an exact list of every troop event that has taken place between the date he became a Life Scout up to now (I'm going to assume that that period is six months or more). Next to the list of dates and troop events, he places a check-mark indicating his attendance and, if he did not attend, he states where he was at the time he didn't attend the troop event. Then, for this same time period, your son makes a list of all of his non-Scouting involvements that are both single events as well as those that have regular schedules. If he has a part-time job, he should list where he works, what he does, and what days and hours he works. When this is put together, send it to me first, and let me take a look at it (safety check). Then, your son will contact your district's advancement chair and schedule an appointment with him or her. He'll go there and arrive ten minutes ahead of the appointed time, in full and correct uniform if at all possible, with all of his advancement records, signed Eagle project workbook, filled in Eagle Scout rank application. In the meeting, he'll introduce himself and state right up front what the problem is that he's encountered, show the list of dates and events he's assembled, and formally request a district-level board of review. Unless I miss my guess, his request will be granted. No reasonable person would send him back "one more time" to that Scoutmaster, and no one with any spine would permit that Scoutmaster's unreasonable edict to stand in your son's way.
---
Dear Andy,
While catching up on your recent columns I noted requests for the Boy Scout Roundtable guide and the Cub Scout Roundtable Commissioner and Staff Basic Training Manual. The BSA national office has recently been posting some bin and non-bin publications on the web that your readers might want to check out:
BSRT Planning Guide 2008–09 (18-941)
www.scouting.org/filestore/pdf/18-941.pdf
BSRT Planning Guide 2009–10 (34256)
www.scouting.org/filestore/pdf/34253.pdf
BSRT Commissioner Training (34256)
old.scouting.org/commissioners/roundtable/34256.pdf
CSRT Commissioner & Staff Basic Training Manual (33013)
old.scouting.org/commissioners/roundtable/33013.pdf
Troop Program Resources (33588)
www.scouting.org/filestore/pdf/33588.pdf
Troop Program Features, Volume I (33110)
www.scouting.org/filestore/pdf/33110.pdf

Troop Program Features, Volume 2 (33111)
www.scouting.org/filestore/pdf/33111.pdf

Troop Program Features, Volume 3 (33112)
www.scouting.org/filestore/pdf/33112.pdf
(Ed Palmer, Stonewall Jackson Area Council, VA)
Good stuff! THANKS!
---
Dear Andy,
I'm a new adult leader with two sons, in a very old troop. This troop has a three-year Scoutmaster term in their bylaws. The current Scoutmaster has a few months of tenure remaining, and his successor's been selected. Each has a very different way of running things. My own biggest question is about advancement. I had the opportunity to sit in and participate in a Scoutmaster Conference. We use adult leaders in each patrol, and two Scouts were in the patrol I'm responsible for—one was 11 years old and the other was 12 years old and going for Star rank. All three of us adult leaders agreed that both Scouts had done the requirements, but we felt they both needed a little more time working with the troop, possibility in leadership positions, before they'd be ready to advance in rank. (The younger of the two wouldn't intermingle with other Scouts and stayed to himself, and the other Scout wanted to go home with his mom at a week long summer camp this past summer). We felt they were not mature enough for the Star position, but we gave them goals to work towards and told them of their strengths with themselves and within the troop. The incoming Scoutmaster believes in the way we handled these two Scouts; the current Scoutmaster doesn't. In fact, he gave another Scout a Scoutmaster conference a week or two later and approved both. His position is that, if the Scout has completed the requirements, he must be promoted. One belief I have is that I don't believe in a 12 year old Eagle Scout. I believe there are exceptions; however, how can a 12 year old be mature enough? What is the BSA way? The right way? I want to do this right! (Name & Council Withheld)
I'm giving you a presentation that a Scouter sent to me some years ago. It's all about Boy Scout advancement. It's worth a read, by you and by the troop's new Scoutmaster, too. The other thing you all absolutely must read is the Boy Scout Handbook, focusing particularly on the descriptions given to the Scout about what advancement's all about, what to expect in a Scoutmaster's Conference and board of review, how merit badges are handled, and everything you can find that tells sets expectations for the Scout–Because it's your responsibility to deliver on these expectations.
Based on what you've described, you all are doing things all wrong.
Based on what you've described, your current Scoutmaster's got it right and God help that troop when the new guy takes over!
If I were the chartered organization representative or troop committee chair, I wouldn't accept your present Scoutmaster's resignation, or put the new guy in place until you new guys can get it right. If you can't, or won't, I'd fire the whole lot of you.
The BSA way isn't "a" way to do advancement (or anything else) — It's the ONLY way. Period. If you don't follow BSA policies and guidelines, you're not delivering the Scouting program, simple as that.
You all also need to start reading every one of my columns — there's not one that doesn't contain some sort of advancement "hiccup" (sometimes, they're out-and-out horror stories, and you need to see these so you don't repeat them!).
Here's the simple bottom line: If a Scout has completed the requirement, he's earned the rank. When the requirements are completed, your personal "judgment" as to his maturity or anything else is more than inappropriate–it's flat-out wrong. Further, your personal "decision" to make a Scout work beyond the requirements is a clear violation of BSA policy.
After you've undertaken the challenges I've given you here, if you have more question, please ask. And do understand that although I'm being very adamant, I'm doing this for emphasis—not out of anger or recrimination. I'm glad that you wrote to me and I firmly believe that you can succeed!
---
Hi Andy,
Thanks for the great columns. I've learned a lot from you. My question is about chartered organizations (COs) adding requirements to volunteer service beyond what the BSA says. For instance, can a CO require that all adult leaders of a unit take additional child abuse prevention training (in addition to the BSA Youth Protection training) that's run by the church's national organization that the CO is a part of? Our CO is requiring that all leaders to take this training—It's the same one that parents have to take in order to chaperone class field trips, volunteer at school, etc. This hasn't been a problem until recently. In the past, a large majority of our unit members (both youth and adult) have been parishioners and/or the church's school students, but now we're getting non-parishioners/school students in our ranks and these families aren't too keen on going to a class run by the church to protect its own interests. The course doesn't cover anything above what the BSA Youth Protection training covers; it's just set in a different format. The course is also three to four hours long and isn't offered all that frequently in our area.
You always say that you can't add to the BSA rules. Does this hold here?
To take this to the next step, can the CO restrict family camping trip to only the families with both adults certified in this added training? We use cabins at our local BSA council camp, following the GTSS guidelines (separate youth from adults, males from females, etc.), and the camp leader is fully trained and has BALOO training as well. If the CO can do this it'll kill our family camping program! (Name & Council Withheld)
I'm well aware of the "Protecting God's Children" training. I've taken this training myself, even though I am neither Roman Catholic nor a registered leader in a Roman Catholic church's Scouting unit. (It's called "walkin' the talk," or, for non-Catholics, it's called, "When in Rome…") I can first-hand tell you it's painless, informative, and enlightening, and I'd recommend it to any parent of any child, for the future safety of their own sons and daughters.
On the "can they make us" question, yes they can. The church outright owns the pack and so has final say-so on safety and protection policies, and these can supersede the BSA's policies when they are more safe and/or more protective.
The "policy" you're thinking about—the one about no adding to or subtracting from—has to do with advancement requirements; not youth protection or safety.
All of the foregoing not withstanding, the church powers-that-be do need to understand that Cub Scout camping is not like Boy Scout camping, where a few adults and a whole bunch of minors go off into the woods together. Cub Scout camping is family camping—No boy is without one or both of his own parents, at all times. Therefore, neither the church nor anyone else can "demand" that a parent take a course to protect his or her own son! This sort of training pertains only to situations in which the parent isn't present, and that doesn't happen, ever, with Cub Scout family camping. If you can make this point crystal clear, perhaps you can turn some heads. If not, well, spend an evening watching a video and be done with it! (We have to choose our battles carefully or we lose the war!)
---
Dear Andy,
I've just recently taken over as Scoutmaster and I'm already stepping on some toes! Can you clarify something for me, so that I can take the high road on this issue…?
At a troop campout this past weekend, I got into a discussion with a few of my ASMs (we all joined the troop at the same time) about camping requirements: The question revolves around "double-dipping," and first-year Scouts.
Tenderfoot req. 2 says: "Spend at least one night on a patrol or troop campout. Sleep in a tent you have helped pitch."
Second Class req. 2a says: "Since joining, have participated in five separate troop/patrol activities (other than troop/patrol meetings), two of which included camping overnight."
First Class req. says: "Since joining, have participated in 10 separate troop/patrol activities (other than troop/patrol meetings), three of which included camping overnight."
Finally, Camping merit badge req. 9a says: "Camp a total of at least 20 days and 20 nights. The 20 days and 20 nights must be at a designated Scouting activity or event. Sleep each night under the sky or in a tent you have pitched. You may use a week of long-term camp toward this requirement. If the camp provides a tent that has already been pitched, you need not pitch your own tent."
The point of contention between us has to do with what counts for what. My ASMs believe that a Scout may accumulate every night he camps out on a Scouting function towards all of the above. For instance, this summer we spent six nights and seven days in tents pitched by the camp at a council camp, where the first-year Scouts pitched their own tents one evening and spent a night away from the troop to fulfill req. 2 for Tenderfoot. Then this past weekend we went camping for two days and nights. My ASMs are believing that these events mean that the Tenderfoot req. 2 is now done, and two of the five activities (with two overnight camping activities) for Second Class and First Class plus eight of the 20 required nights for Camping merit badge are now done.
With regard to the Scouts who attended summer camp and the campout this past weekend, my ASMs and I are in agreement as far as the ranks are concerned, because the requirements say, "Since joining…" We differ, however, when it comes to the Camping merit badge requirement. My position is that, if a Scout wants to work on a merit badge he should advise me of his intention, obtain a blue card signed and dated on the front by me stating that he may pursue the merit badge, and then coordinate with the counselor for the merit badge. Then, when he's completed it and the counselor has signed the card indicating that it's complete, the Scout should present it to me for a Scoutmaster conference for review. If the review is acceptable, then I would sign the card on the back indicating that he can receive the merit badge. Since none of the Scouts in question had done any of this, I've said that none of the nights camped so far may count towards Camping merit badge; plus, I don't believe that nights spent camping for rank advancement should count for a merit badge, too. It was not a popular position with my ASMs and they said that that was just my interpretation, and not BSA policy.
So I hope that you can set us straight. I'd appreciate it if you could back up your answer with something from the BSA that I can show the others (and anyone else who may take issue with it) that helps explain our troop policy on this issue. If my interpretation is incorrect, I'll then have something to show those parents who may not appreciate my changing positions on this. (Mike Hagan, SM, Bluegrass Council, KY)
Thanks for finding me, and for writing. I don't know how many of my columns you've had a chance to read, so I'm going to assume not a lot (some of what you're asking about has been covered any number of times in previous columns, but it never hurts to do it again!). The overview is that you've got some stuff right on the money, and some stuff needs a bit of chrome-polishing. Let's get underway…
I'm going to talk about merit badges first, because this will cut through a lot of stuff, fast. You've got the "front-end" of the merit badge process right on the money, but not so much the back-end. The Merit Badge Counselor is the sole determiner as to a Scout's having completed the requirements for a merit badge. No one else is granted the responsibility and authority to do this. Consequently, you're off the mark when you "review" Scouts any merit badge. That's not your responsibility, and that's a BSA policy. Your responsibility, as Scoutmaster, is to accept the signed blue card stub from the Scout and sign it to indicate that its completion is duly recorded in the troop's advancement records. That's it. Nothing more. Ever. You're absolutely not authorized to "review" any Scout on his merit badge work if the blue card stub he hands you is signed by the Merit Badge Counselor. I can't emphasize this too much. You're overstepping by a country mile when you "review" a Scout in this manner.
(Moreover, just so it's covered, a rank board of review by troop committee members is not permitted to "test" a Scout on any merit badge- or rank-related skill or knowledge.)
So let's take all that "20 days and nights" stuff out of our conversation, because this is strictly between the Scout and his Merit Badge Counselor.
This leaves the camping experiences for Tenderfoot, Second Class, and First Class…
We already know that a Scout may complete any of the requirements for any of these three ranks in any order. Yes, he must be conferenced, reviewed, and receive his ranks in order, but the requirements can be completed as the opportunities present themselves. As far as the camping-related requirements are concerned: Tenderfoot is one overnight, using a backpack and including assisting with pitching the tent and helping to prepare and cook the patrol's meals; Second Class is two separate troop or patrol overnight camp-outs in which, on one of them the Scouts does a whole bunch of stuff (campsite selection, tent-pitching, woods tools, fire starting and maintenance, cooking, etc.); and First Class is three separate troop or patrol overnights, with menu-planning, cooking, etc. That adds up to six separate overnight camp-outs, each with increased skills and responsibilities.
It's right there in the requirements: SEPARATE. Two nights back-to-back don't equal two separate camp-outs. Simple as that.
Also, the Tenderfoot requirement, as you've described what the Scouts actually did, has been undermined. Unless those Scouts packed their packs, hiked at least a little ways, pitched their tents, and cooked their own meals (meaning: they didn't go back to the dining hall for dinner or breakfast, or any other meal for the duration of their "trip"), they didn't fulfill the requirements. It's as plain as the nose on your face, right there in the requirements.
So the bottom line is simply that somebody's got to stop "interpreting" requirements and start reading them word-for-word, because here's the one and only BSA policy you need: No council, district, unit, or person may add to or subtract from a requirement. I hope this helps you sail a little closer to True North!
---
Dear Andy,
I saw your comments on age requirements for merit badges. In our council, shotgun and rifle merit badges, when earned at camp, have age restrictions. If you earn them outside of camp, they don't. When asked, the council replies, "It's 'policy'," with no further elaboration. Isn't that a contradiction?
It seems the same with knives… We're told that no sheath knives are allowed in Scouts, yet they're sold at the Scout store, with the official Scout emblem on them. (Brian Engler)
First, the knives (easier subject): Although the BSA used to sell fixed-blade knives and although the Guide to Safe Scouting doesn't expressly forbid fixed-blade knives, and although, IMHO, once a non-fixed-blade knife's blade is locked in place it's as "lethal" as its fixed counterpart, a council is permitted to have safety policies that supersede the national council, if the policy is deemed "even safer" than the national policy. Long-winded way of saying: If they say no dice, it's no dice.
Which actually leads into the next subject… When camps are short of equipment, they usually find ways to cut down the traffic. An "age restriction" is one way to do this. I don't like it. You may not like it. But the guy who has to raise the money to support the camp beyond what the campers' fees cover (which we know isn't 100%) like it, 'cause he doesn't have to include more rifles and shotguns in the budget, and doesn't have to get the camping committee or the ways and means committee to build additions to the rifle range or scarf up more safe space for the shotgunners! Want to fix this problem? Simple, head up a fund-raiser to do the job. (No, I'm not joking. In all seriousness, when you have a vision, and go after it, miracles can happen!)
---
Dear Andy,
We're a new troop—in fact our first official meeting won't not be until this coming Saturday—and already we have questions! One of our Scouts is 17 years old and was previously with another troop in the area. He was active in that troop up until his application to transfer to ours was filed. He has 9 months before he turns 18, so there shouldn't be any problem with him making Eagle; in fact, he already has district approval for his project. We believed that he would even have time to earn a palm or two. However, his mother was told today by a council representative that tenure for Eagle must be earned completely—all six months of it—with the same troop—ours!—and that his tenure with his previous troop doesn't count. Is this right? (Laurie Austin, Troop Advancement Chair, Central Florida Council)
First things first: NO. The information that that mom purports to be correct isn't.
So, what is a "council representative," and why was this Scout's mother inquiring about something that's her son's business? Something's way, way off, here.

Dear Andy,
Thanks for your response! Now I can nip this issue in the bud!
The mother who was told this is our Troop Treasurer. She was at the council Scout shop buying patches and such for our upcoming meeting. While shopping, she was asked about her son and his progress toward Eagle, so she described what's been happening and that's when she was told that his tenure had to be with the new troop and that the "old" troop wouldn't count. In effect, un-asked-for information by somebody hanging out in uniform in the Scout shop, handing out wrong information and upsetting people. I referred to him as "council representative" because I don't know what, if any, position he actually holds beyond being in the Scout shop in uniform on a Wednesday afternoon and acting like he's somebody.
OK, thanks for identifying the "council representative." Good lesson in being careful whom you're listening to! You may want to alert your other parents—old or new—that when somebody starts pontificating, it's a smart idea to ask 'em, "In what official capacity are you making that statement?" And, "Can you kindly show me, in writing by the BSA, your source for that statement?"
---
Dear Andy,
I have a question about two-deep leadership. I'm Scoutmaster of a troop with seven older and six younger Scouts. We have a backpacking trip on the calendar for the fall, and we'll probably have two adults—myself and our Committee Chair—going. The trail is a six-mile hike around a lake at a state park near here. There are two paths to take: One that leads along low ground, following the lake shore (an easy hike), and the other a more strenuous climbing path involving a elevation gain of several hundred feet. Both meet up at the same campsite. The older Scouts will want to do the second path, and I think the younger ones will have a better time taking the easy path.
Our question is this: Can we divide our two adults, with me going with the older Scouts, let's say, and our other adult going with the younger Scouts? I know that the "two-deep leadership" rules must be followed, but how do we resolve them in this situation? There will be two adults in the camp. On the trail, can we treat the situation as the same as when we're driving the Scouts to camp, and have one adult in the car with two or more boys? (Allan Green, Indian Nations Council, OK)
Yup, this is definitely a "splitting hairs" situation. Which means, if there's a problem, you've got a "damned if you do—damned if you don't" situation. The GTSS does say that "backcountry" trips are to have a minimum of two adults, so I think you may have a problem here. Even though "patrol activities" (which can include a hike, of course) don't always require adults present, I wouldn't consider that to be "wiggle room" unless you're practically in a city park!
Your best all-around solution is to enlist two more dads for the trip. The two don't have to be experienced hikers, because they can accompany the younger Scouts on the low trail, while you and your CC take the high trail. In fact, this is an excellent way to get two relatively new dads involved with the troop and its outdoor activities in a relatively painless way. It also means that, after the Scouts are bedded down in their own campsite, your "Old Goat" campsite nearby will have a four-way instead of two-way conversation! That's a win-win in my book! Besides, having two more dads also makes transporting a dozen Scouts a heck of a lot easier than cramming six or more into each of just two cars!
---
Send your questions and comments to:
(August 30, 2008 – Copyright © Andy McCommish 2008)
Letters to AskAndy may be published at the discretion of the columnist and the editor. If you prefer to have your name or affiliation withheld from publication, please advise in your letter.